Elddis Crusader 2019
The Crusader range offers 5* Luxury, with style and specification to leave the competition standing.
Description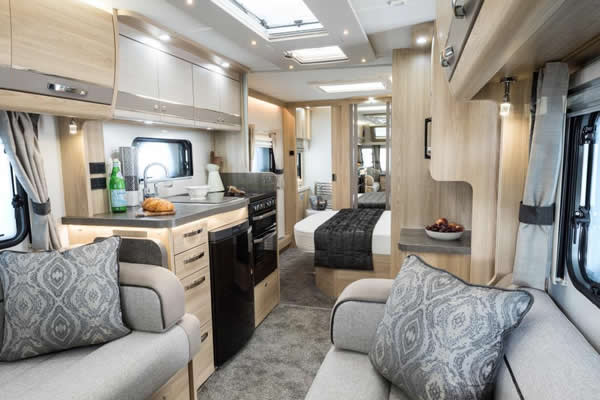 From the sporty, head-turning exterior to the impressive and lavish interior – no other caravan looks or feels like a Crusader
Choose from 2 single-axle and 3 twin-axle Elddis Crusader models…
Key Features
Exterior:
AL-KO Chassis with AKS 3004 stabiliser and ATC
'StrongLite Aluminium one-piece sides in 'Champagne Gold'
NEW Graphics
Stone-chip resistant front panel and large gas locker
NEW Rear panel
Aero privacy flush-fit double-glazed side windows with pleated blinds and flyscreen
Balanced wheels
AL-KO Diamond Standard wheel lock(s)
NEW Improved wheel spats
Spare wheel and underslung carrier
External Gas barbecue point
Exterior access locker door with 230V socket
Sky-Scape panoramic sunroof
Interior:
Stargazer rooflight
Alde 24hr central and water heating system
ALDE Load Monitor – never trip out your electrics!
Grade III Thermal Insulation for year-round use
NEW Interior design: 'Java'
Aquaclean upholstery – wipes clean with water
SafeFront PetFriendly upholstery – both hypoallergenic and snag-proof!
OZIO Upholstery – Cool in Summer, Warm in Winter
(Leather Upholstery option available)
NEW LED reading lights
NEW Style switches and sockets
NEW Fixed drawer handles
NEW Bathroom accessories and EXTRA towel hooks
NEW 'Rose Metallic' kitchen splashback
NEW Oven and grill
Dual fuel hob
Microwave
40L On-board water tank – gives 80L continuous water supply
Aquasource water line
EcoCamel water-saving shower
NEW Clothes dryer in shower cubicle
NEW Domestic-style heated towel rail
Back-lit bathroom vanity mirror
Retractable bed – creating 40cm extra floorspace in daytime mode
Craftsman-built cabinetry with positive locking
Layouts
Crusader 2019 Layouts :
Elddis Crusader Aurora (4 Berth)
The Crusader Aurora is a single-axle model with retractable island fixed bed.
This model features a separate bathroom and shower cubicle amidships, which can be sectioned off to create en-suite facilities. The Crusader Aurora comes with 24-hr programmable Alde central and water heating system.
Elddis Crusader Storm (4 Berth)
The Crusader Storm is a twin-axle model with retractable transverse fixed bed and luxurious end bathroom to the rear.
A superb and spacious option for couples and families alike.
Elddis Crusader Supercyclone (4 Berth)
An exciting new twin axle layout, the new Crusader Supercyclone boasts a superbly comfortable twin bedroom at the rear with a centrally-located bathroom, which can be used as an en-suite or as a family bathroom.
This flexible new layout will appeal to both couples and families – with a bright, airy lounge which will be enjoyed by all!
Elddis Crusader Zephyr (4 Berth)
The Crusader Zephyr ia a twin-axle model with retractable transverse fixed bed at the rear and superbly spacious lounge up-front, separated by luxurious washroom and shower room amidships.
This central area can be closed off from both the bedroom and from the living area, creating a true en-suite layout.
A flexible option for couples and families alike.