Note: As per 2012 Ventura will become part of the Isabella range. However, we still have 2011 models in stock if you would like to see them.

Since its brand launch in 2000 Ventura have become a force to be reckoned with in the Market and the range has been improved and extended again for this season.
The concept behind the range is to offer quality awnings at affordable prices in a range of colours and sizes to suit the adventurous spirit of the touring Caravanners and Motorhome owners!
For the new season, the range for tourers comprises full awnings, a sun canopy and a range of porches plus accessories that include a Tall annex and a handy storage tent. For Motorhomes the Freestander is now available in two colours and heights. Freestander has superior choice of systems for fitting to the vehicle.
Many first time caravanners are choosing Ventura Products as an introduction to the Isabella group and here are a few of the reasons why.y recognised as the manufacturer who sets the Quality Standard in the Camping Industry.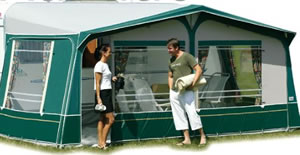 Screwless Fixing:
FIXON tm – Ventura has fitted a profile strip inside their awnings parallel to the beading that threads through the caravan rail. The purpose of this clever addition is to remove the need for screw fixings to the caravan! The Fix on Bracket is fitted to the profile rail, the hook end of the awning rafter pole goes into the bracket, the awning can then be tensioned as usual, and there is no possibility of the caravan side being damaged. The caravan warranty is protected and there is no chance of water ingress. Included in the Ventura Package.
Easy To Assemble:
The awnings and porches are supplied with connected poles, interchangeable where possible, to make the frame straightforward. The awnings and porches come with a choice of frame Steel or super-lightweight Fibremax.
Quality:
To fit, by design, the many shapes and sizes of modern caravan.
Acrylic Material – Heavy duty, Fibre-dyed, Colour fast, non-rotting and quick to dry.
Covered Zips – long life zips protected from the weather Reinforcements – minimize the risk of wear from poles and pegging points
And the list goes on; utilizing the expertise Isabella has gained in manufacturing awnings for over 50 years.
Find more information on awnings and buy online at www.crowlandcamping.co.uk