Our staff are some of the best in business and can get your caravan back to "good as new" efficiently, effectively and economically.
We are Warranty & Service Agents for the major caravan manufacturers: Elddis, Buccaneer, Compass, Swift and Lunar. We are also able to offer an Exterior Caravan Washing Service and Air Fill Service

Full Caravan Service
A full caravan service is available on site by our own fitters. All caravans go through a thorough checking process, which includes:
testing the water systems fully,
turning on appliances to check they are in full working order,
brakes check
full chassis check
It's all part of the service and any issues are noted at the time of service. You are then notified of any repairs as part of the process. If we can repair fully at the time of service we will, but rest assured we will do our very best to get you back up and running as quick as we can.
Full Damp Test
A full damp test is also carried out as part of the service. Copies of the Fitters checklists are provided as well as the Damp Check sheet.
Drying Area
We have a "Drying Area" for caravans with water ingress. Your caravan can be stripped and left to dry at its own pace, in a clean warm environment. All making a better repair.
Repair Workshop
Our Repair Workshop is where we carry out insurance repairs, replacing rear panels, replace lights, replace and replace awning rails to name but a few. We are fortunate to have a selection of suppliers who can fulfill our parts needs. So old or new, there is usually a solution. Just give us a call.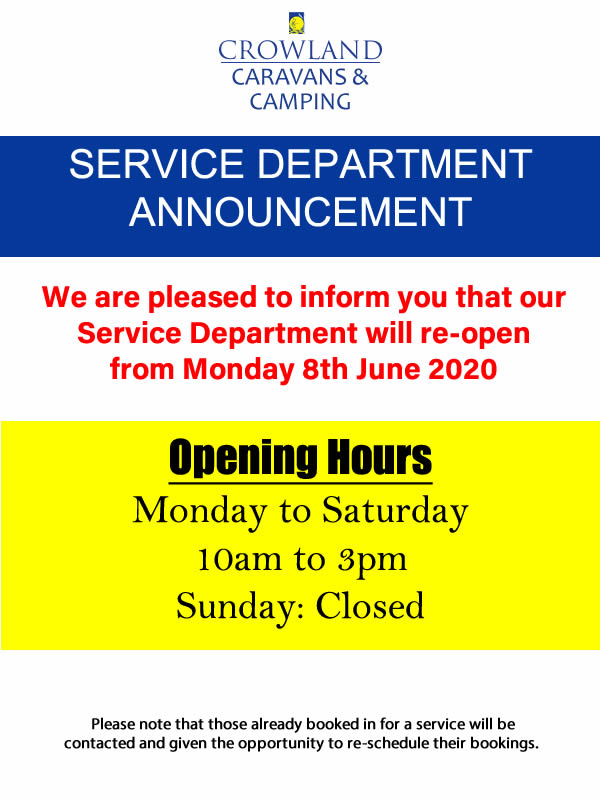 ** Service Department Announcement. **
We are pleased to inform you that our Service Department will re-open on Monday 8th June 2020.
Please note that those already booked in for a service will be contacted and given the opportunity to reschedule their bookings.

Our opening hours will be:
Monday to Saturday 10am – 3pm. Sunday: Closed.
WHEN COMING IN FOR A SERVICE PLEASE READ:
Please ensure that the following has been done before bringing your caravan in for its service.
The KITCHEN SINK area is emptied.

The FRIDGE has been emptied.
The BATHROOM and TOILET area should also be emptied.
If you have Alde Central Heating the cupboard where the header tank is stored will also need to be cleared.
TOILET LAY CARPETS should be removed.
The Caravan MUST have been UNUSED for at least 72 HOURS prior.
This will allow the fitter to clean all contact points and the floor following the service.